Clinics
I'm serious about helping horses, I make a major committment to my work as a farrier, and I truly enjoy my blacksmithing, but my lifelong love and commitment is education. I host a few clinics here in LaFayette at TimberHouse Farms, and I travel extensively, conducting clinics for farriers and horseowners alike.
Farrier Clinics:
I'm happy to serve as a clinician for associations, organizations, and large groups; nevertheless, the best farrier clinics are always small group, hands-on activities, where I can individualize instruction. Whether you're looking for help with certification or with your everyday work, I'll be happy to set up a clinic geared to your needs.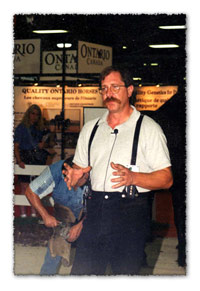 Horseowner Clinics:
Most horse owners own horses the way I own a truck. I take a leap of faith every time I get the thing worked on! And, quite honestly, there are a lot of trimmers and shoers out there who would just as soon that you stayed in the dark. But good farriers want informed consumers who can understand and appreciate the work we do. As with all my clinics, my horse owner clinics are audience specific. I target my instructional materials to your needs.

For both my horse owner clinics and farrier clinics, I often coordinate with and work with my friend and colleague, Crys Chapple, DVM. An extraordinarily gifted equine veterinarian, Crys is masterful at taking "boogedy-boo vet speak" and making total sense of it!


Training Clinics:
I was lucky! I was raised by one of the finest horsemen who ever forked a saddle: Haskell Crawford. As a youngster, I assumed that everyone trained horses the way Haskell did. Later, I realized that only people like Tom Dorrance and Ray Hunt worked that way.
Over the years, I've done a few stints as a trainer, training show horses for DebRock Quarter Horses, starting colts on the King Ranch, training police horses for mounted units, and doing the sort of pick-up training that all working cowboys and pen riders do to make an extra dollar. I now take in one training horse a month, just to keep me thinking and to help maintain my sanity.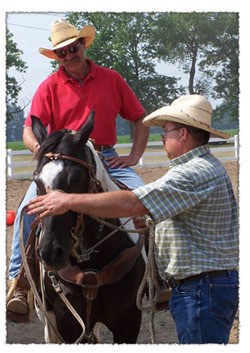 Farriery remains my primary focus; I have no desire to go back to training horses, but I do occasionally assist trainers with their clinics, especially when I have the opportunity to incorporate some sessions on hoofcare.